Religion is a personal choice, no matter what the denomination. You may choose to share your beliefs with others, or you may keep them to yourself. You may also eschew religion if you choose to. But religious discrimination is not a choice your employer has a right to make.
One of the most demeaning forms of discrimination is on the basis of your choice of religion. Whether you grew up with your religion beliefs, or chose them later, it should never be used against you. If it is, your civil rights have been violated through religious discrimination. And in the workplace, you may have grounds for a lawsuit.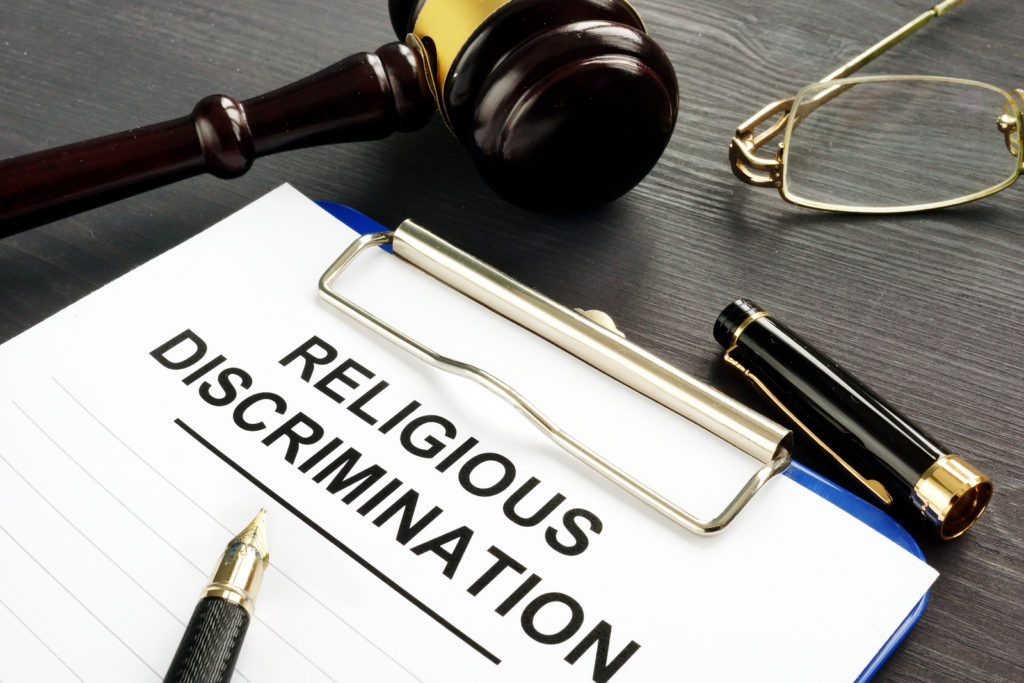 The First Amendment
What it actually says is:
Congress shall make no law respecting an establishment of religion, or prohibiting the free exercise thereof; or abridging the freedom of speech, or of the press; or the right of the people peaceably to assemble, and to petition the government for a redress of grievances.
There is no "national religion" in the U.S., as there are in other countries, nor limitations on the practice of religion. 
Title VII of the Civil Rights Act of 1964 also prohibits employers from discriminating against employees.
Two types of religious discrimination
There are two general ways that you could be harassed based on your religion:
Quid Pro Quo, (Latin for "this and that"), when you are required to alter or abandon a religious belief in order to obtain employment, or an adverse action that occurs after you accept a position but refuse to change your beliefs.
A Hostile Work Environment, in which you are subjected to negative comments and/or actions that create a hostile work environment, and suffer a "negative employment action." Employers are responsible for the actions of their employees.
There are some exceptions. Religious organizations, by their very nature, have the right to hire based on their own religious beliefs, especially if it's activities are religious on a day-to-day basis. Clergy members are also prohibited from filing religious discrimination lawsuits, because doing so would allow the government to interfere in religious activities. They are not, however, exempt from other forms of discrimination, such as race based or sex based.
Proving religious discrimination
If you believe you are the victim of religious discrimination, it's important to:
Report each incident of religious discrimination to your employer
Personally document each incident, as well as each time you report an incident
Should your employer fail to take corrective action, you can file a Claim of Discrimination with either the EEOC or the Colorado Civil Rights Division (CCRD). You'll have 300 days from the act of religious discrimination in which to file your complaint with the EEOC, or 180 days with the CCRD. After that, you will lose your right to file your religious discrimination claim under Title VII or Colorado law.
The American Bar Association's criteria for a prima facie case states that a plaintiff must show that:
The harassment occurred because of, or was motivated by, religion
The conduct was pervasive or severe
The conduct had a detrimental effect on the plaintiff and
The harassment would have had such an effect on a reasonable person of the same religion in that position
Once you successfully prove your claim of religious discrimination, there are a number of remedies available under the law. You may be awarded compensatory damages including lost wages and benefits, emotional distress, and occasionally, punitive damages. You may also be awarded attorney's fees and litigation costs. The court could also require the company to reinstate you, and issue an injunction against the company barring them from committing further acts of discrimination.
An attorney who specializes in civil rights violations and employment or religious discrimination can help you navigate this complicated area of law.
Denver's civil rights attorney
You have the right to your own religion, guaranteed by the First Amendment. Employment discrimination in any form is a difficult and complex area of the law. Need help? Call the Civil Rights Litigation Group at (720) 515-6165, or use our online contact form, to schedule your free consultation with us today. We'll aggressively defend you in court and make sure your rights are protected under the First Amendment.