Excessive Force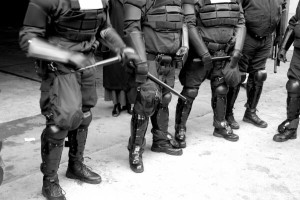 Although police officers are imbued with state authority to use force when they need to apprehend a suspect or to defend the public from violence, the police are not authorized to use force that is unreasonable or excessive under the circumstances facing them.
Excessive force can sometimes occur when individual police officers get overzealous or overexcited, when they seek to punish instead of apprehend, or at times as a tactic to attempt to cover up their own misconduct. Whatever the motivation or the circumstances, police should not abuse their authority to use physical force on members of the public.
At the Civil Rights Litigation Group, we specialize in taking police officers and sheriff's deputies "to the mat" in federal court regarding their use of force, whether the force involved includes:
Tackling
Kicking
Punching
Choking
Tasering
Martial Arts
Baton Strikes
Nachachku
Excessively Tight Handcuffs
Firearms
Etc.
Police who use unnecessary violence should not be permitted to roam the streets to hurt someone else. If you or a family member / friend has been a victim of police violence, contact the lawyers at the Civil Rights Litigation Group to discuss whether the force used was appropriate and reasonable in your case.